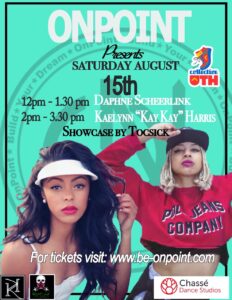 Wegens groot succes van haar vorige bezoek 7 maart, haalt OnPoint de getalenteerde Kaelynn KK Harris opnieuw naar Amsterdam om een dansworkshop te verzorgen!
Kaelynn is onder andere bekend van haar crew 8 Flavahz, die mee deed aan America's Best Dance Crew en als tweede eindigde. Ze heeft ook samengewerkt met artiesten zoals: Usher, Britney Spears, Ciara en Fergie.
Zaterdag 15 augustus is het zover!
We hebben deze keer Daphne Scheerlink aan de line up toegevoegd. Daphne "the beast" staat bekend om haar stoere dansstijl en haar dansgroep Tocsick.
Locatie: Chassé Dance Studio's, Chasséstraat 64, Amsterdam
Schema:
Workshop Daphne Scheerlink: 12.00 – 13.30 uur
Workshop Kaelynn KK Harris 14.00 – 15.30 uur
Wees op tijd en bestel je kaarten zo snel mogelijk, want VOL=VOL!
Ben jij klaar voor dit hiphop feestje van KK en Daphne? Voor meer informatie zie de flyer #OnPoint #buildyourdream
__________________________________________________________________________________
Because of her successful visit last time 7 March, OnPoint invites the talented Kaelynn KK Harris again to Amsterdam to teach a dance workshop!
Kaelynn is known by her crew 8 Flavahz, who participated in America's Best Dance Crew, where her crew finished second place. She also worked with different famous artists such as: Usher, Brtiney Spears, Ciara and Fergie.
Saturday 15 August is goes down!
This time we have added Daphne Scheerlink to the line up. Daphne "the beast" is known by her fierce dance style and her dance crew Tocsick
Location: Chassé Dance Studio's, Chasséstraat 64, Amsterdam
Schedule:
Workshop Daphne Scheerlink: 12.00 – 13.30 hours
Workshop Kaelynn KK Harris 14.00 – 15.30 hours